Welcome to Rob Manthei's Wisconsin Ice Fishing Adventures!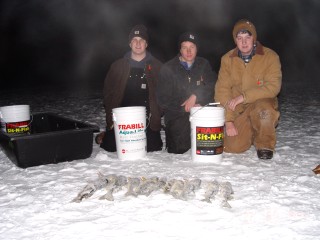 Targeting lakes in Vilas and Oneida County Wisconsin for full day and evening ice fishing trips in heated permanent shacks or mobile trips using ATV's, snowmobiles, and Clam portable shacks.
All equipment provided if needed!
We offer full Wisconsin ice fishing guide services for our target species of walleyes, northern pike, and panfish(late ice is the best for these guys.)
Suggested Equipment:
Walleye:
Tip-ups set up with fluorocarbon leader material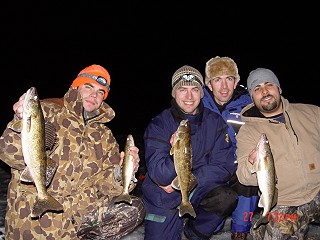 of either 8 or 10 lb test.  Clear mono is ok, but I strongly recommend using either Berkley Vanish or other fluoro materials.
Jig rods with spooled with Fireline and using a short flourocarbon leader also.  Fireline recommendations or 8 lb or 10 lb test. Treble hooks of either #8 or #10.
Northern Pike:
Tip-ups set with either 27lb Sevenstrand wire leader material or equivalent Toothy Critter or Tiger Wire materials.  Heavy fluorocarbons such as 40 to 50 lb test work good too.  I like to use either #4 or #6 treble hooks, and make my own quick sets for dead bait.
Panfish:
Jig rods with 2 or 4 lb test.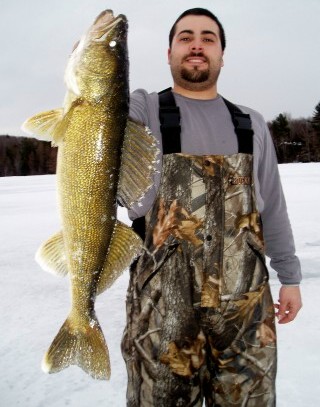 Plans and Prices:
Full Day Ice Fishing Trip:
Typical start around 8 am and fish until dark(or depending upon what is currently happending with the bite) Usually target pike or panfish in the morning and then switch to walleyes during the early afternoon.  I may split the day early and late too…depends on the current bite.
Price: Full day is $500.  (up to 4 people)   $120/person on groups of 5 or larger.  Live bait is extra.
Evening Ice Fishing Trip:
Targetting just walleyes here. I like to be set up around 2 hours prior to sunset and fish til dark or a little after.  Just a short trip keying on the prime walleye hours.
Price: $250 plus bait.  Limited to 3 people max.